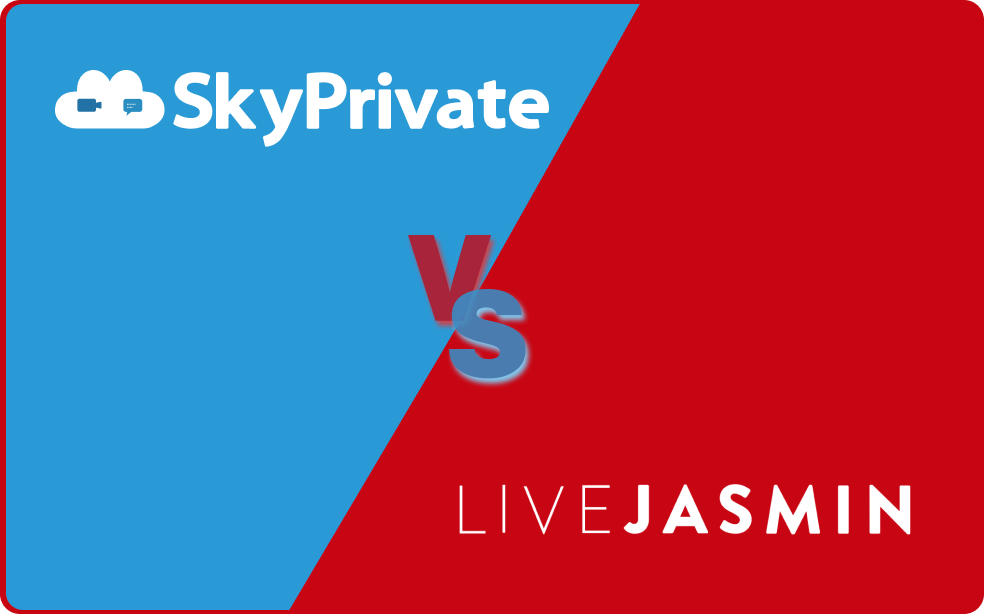 SkyPrivate promises you increased intimacy, while LiveJasmin lures you in with its super glamorous, posh models and live cam shows in HD quality.

SkyPrivate makes it possible for you to take any gorgeous model out on… Skype or Discord: it'll be just you and her, alone, getting intimate, on Skype/Discord.

While LiveJasmin makes you feel like a VIP, entitled to special treatment.

Which one should you choose? And why?

Let's dive deeper into these 2 live cam sites' strengths and weaknesses.
SkyPrivate vs LiveJasmin: Strong and Weak Points
SkyPrivate's STRONG POINTS
CONNECTION: you get to build solid connections during your 1-on-1's with the models on Skype/Discord
100% private: you go private with your favorite cam model from the very start
Pay-as-you-play: no risk there to spend your prepaid credits on a model that doesn't meet your standards
Lots of filtering options so you can get freakily specific with your selections
Order a show in advance option
Video stores on Model profile pages
LiveJasmin's STRONG POINTS
HD picture quality
Glamorous professional cam models
Above-the-average video and audio quality
Lots of filtering options so you can get freakily specific with your selections
THE best webcam streaming quality
Requires you to have a Skype/Discord profile
No free chat on the website: you can communicate with the models exclusively on Skype/Discord
Some models might not be available on Skype precisely when you are ready to play
Not many models of the "girl next door"/amateur type
No nudity in the public cam rooms
You pay more if you want to use their Cam2Cam feature
SkyPrivate vs LiveJasmin: Design and Interface
LiveJasmin really steals the spotlight (aka your eye, the moment you land on its front page) with its HD picture quality, high-quality thumbnails (with intro vids) linking to each of its glam models' profiles and, overall, with its new, fresh and super sleek design.

While SkyPrivate stands out with its user interface as it's so… effective.

All the advanced search tools you have there simplify your entire search experience. While its clean white-and-blue stylish design helps you keep your focus and get straight to action.

Both SkyPrivate and LiveJasmin score high in the "Appearance" category, with the first spoiling you with a straightforward interface, while the latter impressing you with HD picture quality and sleek, visually-striking design.
SkyPrivate vs LiveJasmin: Search Filters
SkyPrivate's the "innovative kid on the block" with features like Skype and even Discord 1-on-1 private shows.

And that's not all! Many models have video stores on their profile pages, the option to control their sex toys, and even service bundles — Skype/Discord shows, sexting, custom video requests, etc. — that you can buy at (really) tempting prices.

LiveJasmin seduces you with its own set of features aimed at making you feel like a VIP on the platform. Take their VIP cam shows, for instance, where you get access to all their premium features.

Or their Club Elite Loyalty Program where, based on how many credits you buy and use on their website, you win different types of statuses or… ranks, if you wish (from "Crush" to… "Cassanova").
SkyPrivate vs LiveJasmin: Types of Shows
SkyPrivate is all about 1-on-1, intimate private shows. For intimacy and closeness to the cam model are their biggest selling points, after all.

Nevertheless, you still get a short video preview on each Model profile page and some of them even offer short LIVE streaming sessions, too. So you can get a taste of what your 1-on-1 Skype/Discord sessions with them would be like.

On LiveJasmin on the other hand, you have more diversity: free, private, and group shows.

You have a free chat where you can send the model live messages while watching her show, you can take her private and have her all to yourself, or you can join a private group show, which is usually cheaper than a 100% private one. 
SkyPrivate vs LiveJasmin: Free Services
What do you get for free on SkyPrivate? Free registration, free access to all the info on the Model's public profiles, plus free access to the short LIVE streaming sessions that some of the models in their "Promoted Models" section offer.

While on LiveJasmin you have the free chat where you can interact with the Live models even as a non-registered user, you get free access to the Models' media content once you join their "Discount Clubs", and to the Models' open cam rooms.

As you can guess, you won't get any type of "nude action" for free. In the public rooms, that is.
LiveJasmin seduces you with its "higher league", glamorous models, luxury vibe, and striking video and audio quality: you definitely feel pampered like a VIP there.

Meanwhile, SkyPrivate's just… different. It plays its "connection" and "intimacy" cards better. Here you can build more solid relationships with the models you're taking private, for Skype/Discord 1-on-1's, and you feel closer to them and in total control, too: you pay only for what you get, as you play.

And it doesn't get any closer to the real thing than this