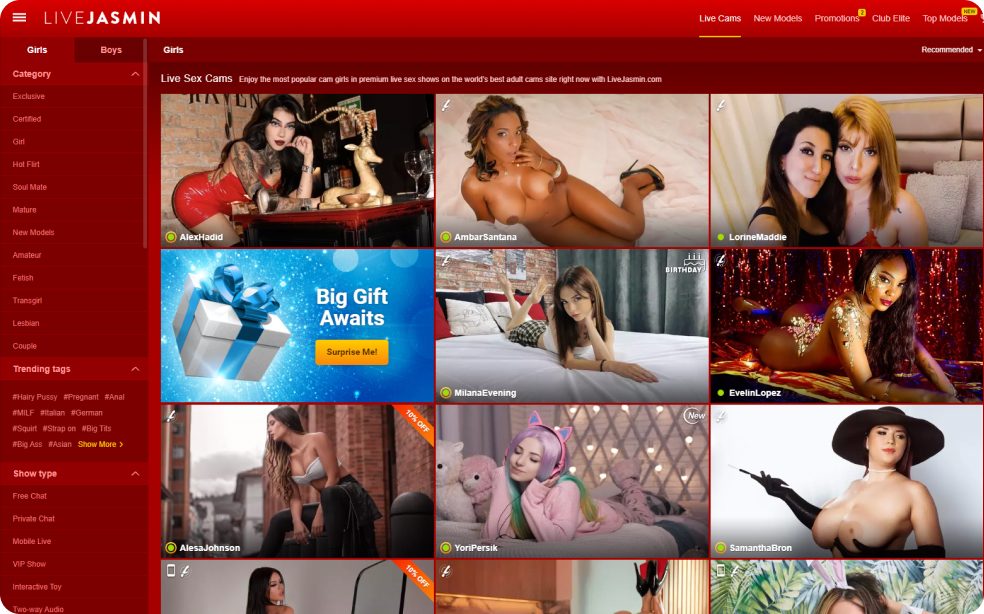 THE finest cam models  across the whole camming industry, the highest video streaming quality, a gorgeous website design, a super easy-to-use interface, and a collection of free and paid functionalities so wide… it's insane.

This is LiveJasmin, a five-star experience you'll hardly find on any other live sex cams site.
The hottest selection of cam models in the industry
The best
video and audio quality you'll find
Excellent navigation: the interface is ideally intuitive
Streams loaded with fun functionalities to enrich your (s)experience with
Cam2Cam
It can get quite expensive
No real amateur cam girls
Cam2Cam comes with a price tag on
LiveJasmin in Less than 10 Seconds
Launched in 2001, LiveJasmin (still) stands out with its HD picture quality and hugely impressive collection of gorgeous, glamour type of cam models. And many of the top ones you won't find on any other cam site. They're exclusive to LiveJasmin.

With its sleek and classy design, great navigation panel — with all the options at easy reach — and its whole collection of fun features and functionalities (e.g. you get to send gifts to your favorite models and watch their reactions in real-time), you'll feel so spoiled and entertained when on the platform.

And particularly if you're a paying member.
LiveJasmin's Strong Points & Weak Points
What LiveJasmin Does Well
It grants you access to THE finest cam models you'll find. And not just access (different levels of it, depending on whether you're a paying or non-paying user), but the opportunity to curate the ones that'll get ranked as "TOP" models and leave feedback for your favorite ones, making sure they'll get the special treatment they deserve.
What LiveJasmin Could Improve On
They could make their website a bit more offering for its non-paying guest ( any paying member has once been a… non-paying visitor, right?)

Right now, as a free user, you'll find your experience on LiveJasmin quite… restrictive: nothing much happens in the live streams for you, the non-paying visitor. And the collection of options and functionalities you could enjoy is… limited.

Also, some upgrades could be made to their server, as during peak hours the site gets kind of laggy. With an impact on its VIP, high-paying members, too.
Standout Features on LiveJasmin
Both Free and Private Chats
In private chats, you get to leave comments and message the model while she's streaming. But you can also take her 1-on-1 and have her all to yourself during a more intimate (paid) private chat.
Take the level of intimacy and personalization you'd get in a private live cam show, add a whole range of premium features to it and you have a VIP live cam show.

What type of features and exclusive benefits are we talking about here? HD cameras, THE hottest and most-wanted models on LiveJasmin all to yourself, your most erotic fantasies made come true…

Take in as an exclusive, five-star treat from some of the perfect head-to-toe cam models on LiveJasmin.
A great feature to tap into when you cannot type your dirty messages (let's say your hands are… busy). You can then use your voice only to send the model your specific requirements and/or compliments.
Top-Notch Video and Streaming Quality
Even on a slaggy internet connection you still get HD video streaming quality. Actually, the quality of live streaming on LiveJasmin is among the best ones across all live cam sites.

You'll definitely feel spoiled…
A paid feature that makes such a great way to add even more fun and interactivity to your experience on the website. To bond with the model and… have topics for small talk.

Particularly important when you're shy and you don't know what to say, what to ask her to break the ice.
You'll want to choose LiveJasmin because…
You won't find such a selection of… utterly gorgeous, well-trained models anywhere else
You get to enjoy the best resolution
The navigation interface is conveniently intuitive and straightforward
You're spoiled with lots of fun, interactive features to spice up your experience with (Vibratoy, all kinds of fun games, "send a surprise" feature, etc.)