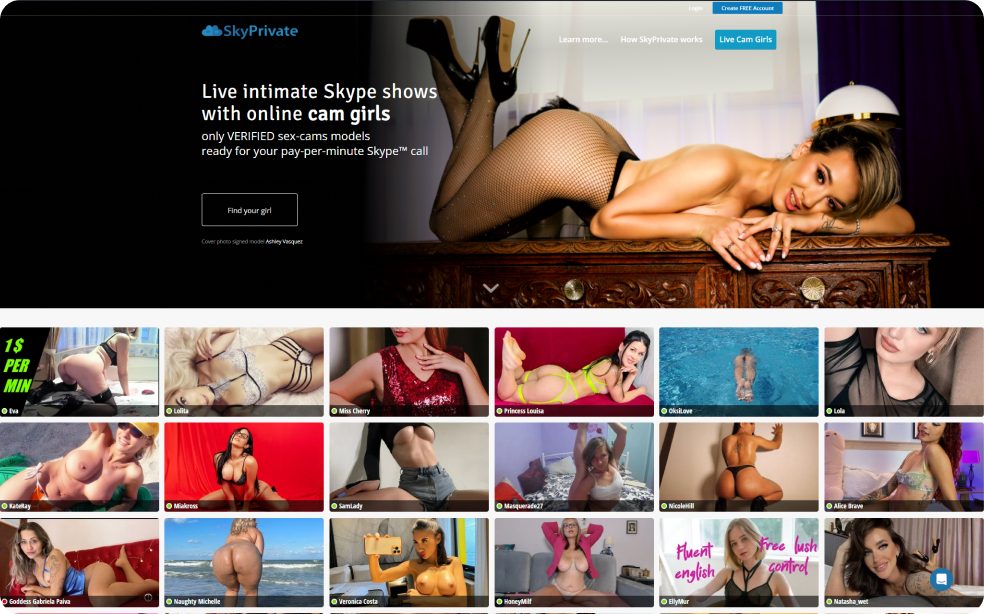 You choose your cam model and take her out on Skype/Discord. This is how SkyPrivate stands out from all the other live cam sites you'll find online. If you're looking for this level of closeness with a cam model — where it's just you and her, alone, on Skype/Discord — then this is the cam site to hang out on.Private
Skype/Discord-level of intimacy with the models
11 Payment methods available
Plenty of search filtering options
Pay-as-you-play system
Star review system for rating the models
Communication with the models only on Skype/Discord
Some models may not be available precisely when you're in the mood to play
You need a Skype (or Discord) profile to sign up for SkyPrivate
SkyPrivate in Less than 10 Seconds
SkyPrivate is a new breed of live cam site
While on the typical adult cam sites ALL the fun happens right there, on those platforms themselves, SkyPrivate operates as a plugin to Skype and Discord. So, it's actually on Skype and Discord that you get to play with the models.
SkyPrivate gives you access to thousands of cam models' profiles
Their most suggestive pics, video teasers, and hot video previews to get a taste of what your live one-on-one with that model will be like. Even a video store.
With all the naughty fun happening on Skype/Discord
The whole experience is much more interactive and overall intimate compared to a standard cam2cam session that you'd enjoy on… traditional sex cam sites: it's like the model's right there, in the same room with you, making your hottest fantasies come true.
On SkyPrivate what you watch is what you pay.
The models here aren't in for the tips: they perform for the flat per-minute rate. So you don't need to outbid other guys to win a specific model's attention and the chance to take her private. And once in a Skype/Discord live call with a SkyPrivate model what you get is what you see. What you've agreed with her to offer you.
SkyPrivate's Strong Points & Weak Points
What SkyPrivate Does Well
SkyPrivate promises purely private intimate experiences and it delivers them 100%. It's the closes thing to the real deal: you pick your cam girl and "ask her out" on Skype/Discord. It doesn't get any more private than this.
And before you get to that part, the whole process of selecting your model, using all the search filters at hand — pay-per-minute rate, the communication service used (Skype or Discord), category, tags (say "blonde" or "MILF" or "ebony"), age, you name it — to adding funds to your account and actually calling the model on Skype/Discord is as straightforward as 12,3… play.
To add up to the experience, the site spoils you with a whole bunch of cool features like the chance to see promoted models streaming LIVE, the opportunity to buy service bundles from most of the models' profiles, or the fact that you get to rate the models and filter them by raking, as well.
What SkyPrivate Could Improve On
Since SkyPrivate acts as a platform where models sell live cam sessions via Skype or Discord, you may run into situations where those models you'd like to get private with aren't online when you happen to navigate the cam site.
Or are simply engaged in other calls precisely when you want to take them 1:1. To avoid these scenarios you can always use their "book a show" tool to schedule your private sessions with the models. Of course, with the inconvenience of having to postpone a bit your instant drive to… play.
As already mentioned, you should expect a different type of payment system on SkyPrivate. A "pay-as-you-play" one. Or, simply put, a pay-per-minute system, with prices going from $1 to $12 per minute.
How does the charging happen, more exactly? Once you start the call with the model the money gets deducted from your SkyPrivate Member account (that you will have loaded beforehand) according to the model's pay–per–minute rate.
You pay as you watch and only for as long as you're on the call with the model. Nothing before, nothing after the show.
How to Register on SkyPrivate
Step 1: Go to SkyPrivate front page

Step 2: Look for the "Create FREE Account" (top right corner)

Step 3: Fill in the registration form popping up (username, email, password)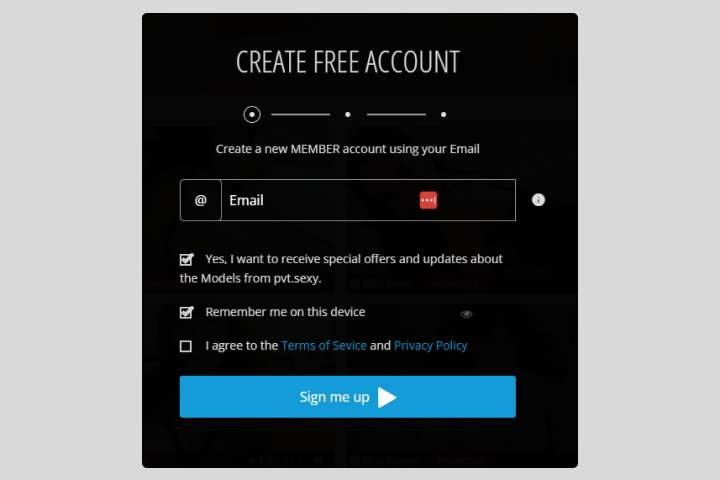 Be sure to open the email verification email and confirm the email you entered there.
Next, you'll receive a second email from the SkyPrivate staff with all the information you'll further need to add to your newly opened Member account, like your Skype ID (and your Discord ID, too if you wish to call models on Discord).
Tip! You'll want to use a different Skype/Discord ID than your day-to-day one.
Now that you have your account all set up, you'll want to add funds to… fund your Skype/Discord fun with the models.
Here's how you do it:
Log in to your SkyPrivate account
Look for "Add Funds" on the left side panel (on your Member dashboard)
Choose the amount
Select your payment method
Click Confirm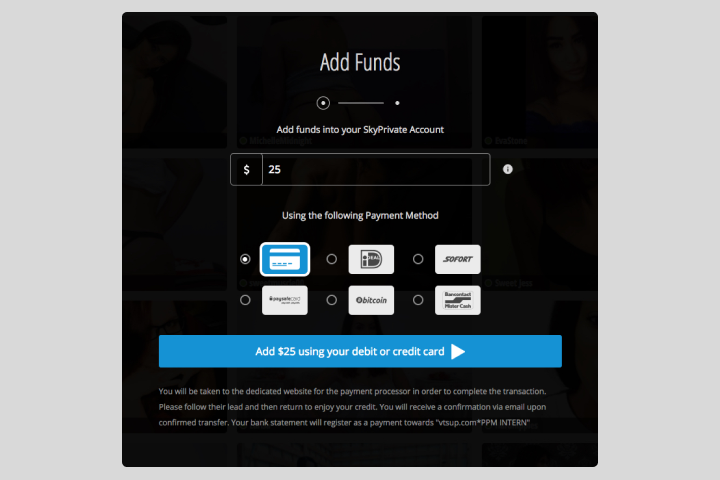 What next? Browse through the collection of models (don't forget to use the search  filters to narrow down your search results), pick your model and:
Either copy the model's Skype/Discord ID off her profile page and add it to your own Skype contacts list
Or simply click the "Open Skype Chat" button on your profile
Call the model on Skype/Discord as usual.

Once the call's accepted and you're going LIVE with her, you start to get charged by the minute.

That's it! Enjoy…
Standout Features on SkyPrivate
Name at least one other live cam site that gives you access to cam girls that you can call for private shows on Discord! 
….
Nothing? Because there's none. Besides SkyPrivate!
Are you a Discord fan? Then you get to have all the naughty fun with your model of choice right there, on Discord! Just copy her Discord ID from her SkyPrivate model profile and… Discord her.
It's true that this feature's limited (for now) to those models tagged as "Promoted" on SkyPrivate. But hopefully, they'll extend it to the rest of the models, too.
Basically, you get to see these models streaming LIVE, right from their rooms, so you can get an even more accurate taste of what your private session with them will be like.
SkyPrivate works on any device that runs Skype or Discord. The mobile app is compatible with both IOS and Android and it sure delights the eye (and makes it so easy to navigate) with its clean and attractive design.
More and more models on SkyPrivate have started offering prepaid service bundles on their profiles. And these packages always make better deals than if you were to buy those services separately.
Say you've been on SkyPrivate for a while now and you've already put together a list of models you like best. The great thing about this site is that it allows you to follow your favorite models. 
Just go to your top favorite models' profiles and click the heart-shaped button next to the "Open Skype Chat" button.
That's it! Now you have your own list of Favorites that you can access first whenever you're on SkyPrivate. 
Have you been trying to get on an intimate call with a model, but she's always available/engaged in other calls? You can use the calendar on her profile to schedule your 1:1 on a specific date, at a specific hour. How convenient!
You get to rate each model from 1 to 5 shiny stars after your private shows with them. And you can even add a written review, detailing a bit about your experience with that model.
You can buy videos from those models you like most so that you can watch them… anytime and anywhere you feel like. Once bought, they're yours to access forever.

Or you can just download them directly on your device and enjoy them whenever you feel like playing and, for some reason, these models aren't available to… meet your appetite.
On SkyPrivate you can connect to the models' interactive toys and… control them. It's a tip-based system: you tip the toy, you give her pleasure, and you experience pleasure, as well,  as you watch her getting closer and closer to climax… It's a win-win.
There's a downside to having thousands of hot-looking models to choose from: it's so damn hard to pick.
But luckily, on SkyPrivate you have lots of filtering options available to narrow down your searches to THOSE models that suit your taste in women perfectly. 
Select by price, by hair color, by fetish, but all kinds of search tags like "busty", "bigass" or… "JOI" and identify the models that meet your preferences 100%.
You'll Want to Choose SkyPrivate Because…
It doesn't get any closer to the real thing than
this: just you and the hot model getting as intimate as you want to on Skype/Discord
You get to pay as you play
You'll find some of the most open-minded,
kink-friendly models on SkyPrivate
It takes just a few simple steps from joining in
to… enjoying your Skype/Discord 1:1 with your model of choice
Frequently asked questions