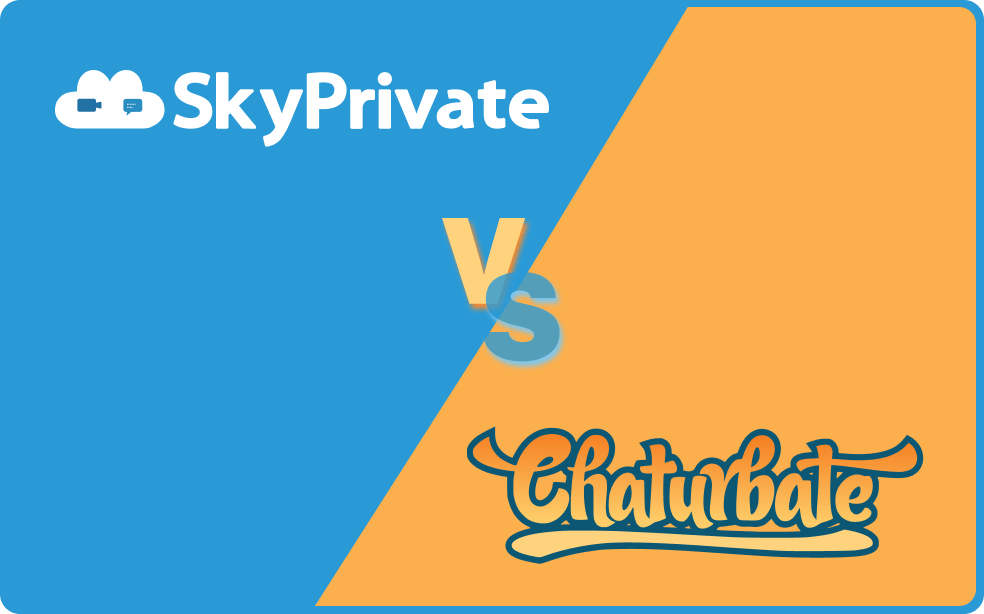 Chaturbate is by far one of THE most popular free cams site out there. And it promises you (and manages to keep its promise) access to the widest collection of amateur sex cams and plenty of hot action FOR FREE.

While SkyPrivate promises you a more private and intimate experience than on any other live cam site. It's just you and the sexy cam model on Skype/Discord. You have complete control over the private session and it doesn't get any more private than this.

Which one — SkyPrivate or Chaturbate — suits you and your preferences best? Let's share with you their pros and cons to help you decide…
SkyPrivate vs Chaturbate: Strong and Weak Points
SkyPrivate's STRONG POINTS
Pay-as-you-play system: you only pay for what you use/enjoy
So many search options and categories
Wide price range (from $1/min up to $12/min), to suit every wallet
Skype and Discord private shows
100% private shows right from the start: no need to wait in line in a crowded public chat room
Chaturbate's STRONG POINTS
Plenty of hot action to enjoy as a non-registered user
The best amateur content (and you get to enjoy most of it for free)
Lots of ultra specific tags to filter your search results
Some of THE most open-minded cam models you'll find
Huge variety of performers and… kinks
Huge number of live cammers to pick from
You're constrained to sign up on Skype/Discord first
There's no free chat on SkyPrivate
Some models display their pay-per-minute rates only to registered users with a minimum balance in their Member accounts
Annoying ads, which can temper your enthusiasm after a while
Private shows come with a price tag on
Slightly outdated user interface
SkyPrivate vs Chaturbate: Design and Interface
SkyPrivate's interface is straightforward and effective: a well-designed search tool, models falling into different well-defined categories. You get to spot your perfect girl and jump on a Skype/Discord call with her right away.

On Chaturbate, on the other hand, you'll find a slightly outdated layout and crowded interface with so many (non-animated) thumbnails squeezed in on the homepage that… it's hard to keep your focus.

In short, when it comes to layout and interface, SkyPrivate scored higher than Chaturbate: it has a more attractive interface.
SkyPrivate vs Chaturbate: Search Filters
Both SkyPrivate and Chaturbate have solid search systems to find precisely those cam models that suit your kinks and particular preferences in the slightest detail.

Yet, the search tools these 2 live sex cam sites provide are slightly different…

On SkyPrivate you have search tags that you can enter yourself, in the search bar, you have price and age range bars that you can play with, all kinds of filters — Skype, Discord, Online, Stream — that you can turn on/off, even language filters, too.

All that in addition to the categories that you can scan through while looking for your Skype/Discord girl: BDSM, Girlfriend Experience, Top Models, Porn Star, etc.

On Chaturbare you have mostly… tags.

Lots of tags, actually, even ultra-niched ones like… "puffynipples", "goth", "shy", "muscle", "milk". There are around 1000 different search tags to choose from and get insanely specific with your search results.

SkyPrivate vs Chaturbate: Types of Shows
Here, Skyrivate doesn't try to tempt you with different types of shows: it's 100% and exclusively about private shows.

Nevertheless, you can still find models from their "Promoted Model" category that do offer short live-streaming sessions. Of course, if you want to continue the LIVE fun, you'll need to take out your wallet.

But except for those, it's private shows that you get on SkyPrivate.

On Chaturbate, on the other hand, you'll find a little bit more variety. You have free chat, private, group, and spy cam shows, too.

No matter what live cam you might choose, on Chaturbate you get free chat by default. Then, if you really like the show and that specific performer, you can always get out of the crowded room and take her/him private. At a cost, of course.

Also, for a lower price, you can always spy on others' private shows or join a group show on Chaturbate and… "share the bill" with other users.

In short, you do have more options on Chaturbate from this point of view

SkyPrivate vs Chaturbate: Free Services
Free registration, free access to the models' juicy galleries of pics, their short video previews, and the short live-streaming sessions that some of the Promoted Models offer. This is what you get for free on SkyPrivate.

When it comes to Chaturbate, there sure is plenty of great free (amateur) content to enjoy. And it's super convenient: you can start to watch shows right away; no need to jump on a Premium Membership unless you're in for their extra features.

And unless you don't mind "sharing" the cam models with lots of other non-registered users who… in some cases… can get quite noisy or rude.

Choosing between SkyPrivate and Chaturbate is like choosing between… bananas and chocolate.

What type of "snack" do you prefer generally?

SkyPrivate is private and intimate by definition, whereas Chaturbate is mostly free and entertaining. It's like choosing between a "particularly intimate session with your favorite Model" and a "highly entertaining show with an open-minded performer".

Which one suits you best?