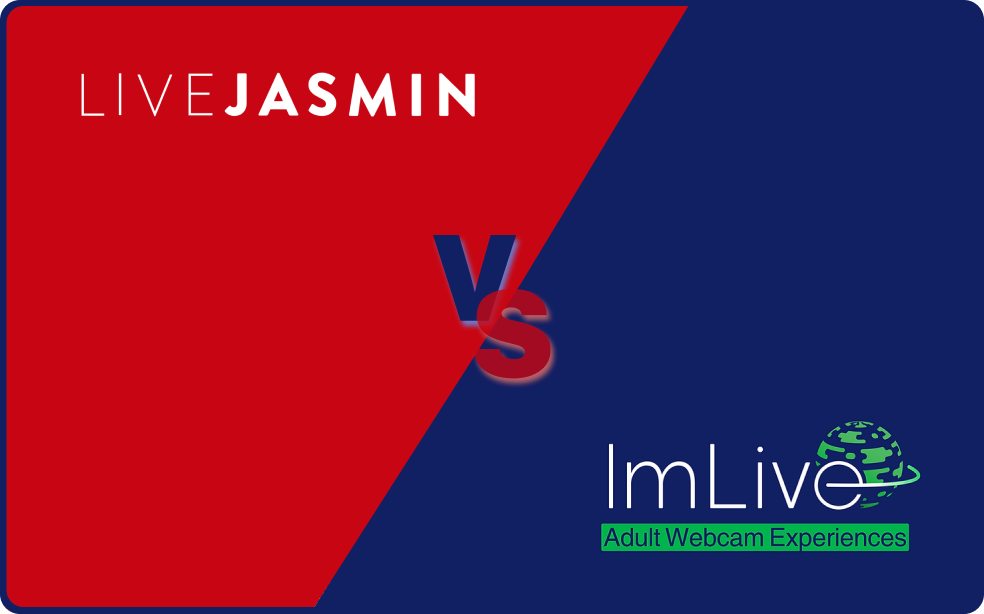 They're both premium live cam sites and they're both famous for granting you access to THE finest cam models in the industry.

So, no wonder that it's challenging for you to see which one's better suited for YOU. Your needs, preferences, and specific expectations.

But there are differences between them…

Once on LiveJasmin, you feel… pampered and part of a highly exclusive club: it's so glam, luxurious, and stylish.

While ImLive simply dazzles you away with its massive selection of performers, at cheaper prices than on LiveJasmin, and makes your search experience there so smooth: their search tool is one the best ones.

But we're not making things any easier for you now, are we?

So come, let's take a close look at these 2 sex cams sites' TRULY relevant strengths and weaknesses so you can make up your mind…
LiveJasmin vs ImLive: Strong and Weak Points
LiveJasmin's STRONG POINTS
Some of the best looking and most skilled models in the industry: you'll be in THE best possible (perfectly manicured) hands
Great HD-quality live cams (and an HD search filter that you can use)
Visually-striking website design
Professionally taken thumbnails to feast your eyes on
50% off for newly registered members
Massive selection of performers
Great search function to help you get to THAT model that meets ALL your requirements
Huge user base (millions of users!!!) which stirs competition among the models, making them eager to cater to your every need
Up to 40 FREE CREDITS for new members
Well-suited for niche fetish cam fans
Candy shows: group shows that you can join based on a ticket, where you can enjoy a pre-show preview of the model, too
Not many amateur cam girls: there are mostly studio (professional) webcam models
Not much skin revealed in the public cam rooms
Slightly on the expensive side
Not many free teasers to watch and… drool on
Few video quality options (and the HD ones aren't labeled as such)
All the juiciest perks come with a price tag on
LiveJasmin vs ImLive: Design and Interface
From the point of view of their appearance, ImLive makes you feel at home, while LiveJasmin makes you feel like a VIP walking down the red carpet. Let's elaborate…

ImLive's design is… familiar. In line with the type of layout you see on many other nude cams sites. Its user interface is easy to use, clean, and simple, its animated thumbnails load quickly and the overall feeling that you get is that of predictability.

You can easily go to your favorite models' profiles and you're not forced to waste time trying to figure out how to use a feature or another on the website.

Meanwhile, once you land on LiveJasmin you're… struck by the HD picture quality they have there. And its aesthesis is, overall, jaw-dropping, meant to impress you and seduce you. In short: the website design is simply… GORGEOUS.
LiveJasmin vs ImLive: User Features
On ImLive you get a reward program, while LiveJasmin seduces you with a loyalty program. Here's how they work.

ImLive rewards you by raising you up in their membership hierarchy as you start and continue to spend money on the platform.

For instance, all you need to do to level up from "New Member" to "Bronze Member" is make your first purchase there. You then get 20 FREE previews of every private cam show on the website, a cut of 20% from the recorded shows' prices, access to the models' private photo galleries, etc.

On LiveJasmin not only that you feel you're being treated like a VIP from the very start, but you get to join their exclusive "Club Elite" loyalty program, too.

Which works like this: with every set of credits that you buy you earn points and… new statuses. Which go from "Crush" to "Lover" all the way to… "Casanova".
LiveJasmin vs ImLive: Search Filters

When it comes to site navigation, on LiveJasmin you're being spoiled with two major types of search filters: one on the left side of the screen and one on the top right of the homepage.

The left-side menu lists, neatly, all the categories available. You have an HD filter so you can choose to have only the live cams in HD quality picture displayed,  "Trending Tags", "Shop Type" (free chat, private chat, Stories, Interactive Toys, etc.), Price Range filters, "Willingness" filtering options (they range from "Anal" to "Twerk"), and the list goes on.

While in the upper right side of the page, you have a search bar where you get to enter your own specific search tags. Even multiple ones (e.g. "busty redhead strapon") if you know EXACTLY what you're looking for.

The search system on ImLive is pretty similar (if not almost identical): a looong list of categories and all types of filters listed, one on top of the other, on the left side of the homepage, plus a search tool in the shape of a magnifying glass on the top right side of the page, where you can enter your own search terms.

Now, you may be looking for more filtering options for the "Fetish" category on ImLive: rest assured, there are plenty of them! Just select the "Fetish" category from the left-side menu and once on the dedicated page, you'll see lots of options that you can choose from (the "All Fetishes" drop-down menu in the top right corner of the screen).

A bit surprising, though, that they haven't included an HD search filter, too…
LiveJasmin vs ImLive: Types of Shows
You have free, private, and group shows on both premium live cam sites. And yet, there still are differences that might make you favor one over the other.

While on ImLive the cam2cam and 2-way audio features are included in the overall price of a private chat, on LiveJasmin they come at an extra cost.

Also, "private chats" fall into many more categories on LiveJasmin. You have:
Video Calls, where the models, even though not available in the public room and technically offline, are for private sessions… at the right price


Mobile Live: the cam models stream LIVE directly from their mobile phones


VIP Shows

(the equivalent on ImLive is "Candy Shows"): you buy your ticket to a models' show, along with other members, too. If she reaches her $$$ goal, she'll put on her show, if not you'll get refunded.
LiveJasmin vs ImLive: Free Services
On LiveJasmin, you get to create your member account FOR FREE, plus you get to enjoy a 50% off promotion as a newly registered member, watch the models in the LIVE public rooms, and even free chat with them.

Meanwhile, on ImLive, too, you get free registration, up to 40 free credits as a starter pack, once you're signed up, and unlimited access to free chat rooms.

So, from this point of view, there's not much difference between ImLive and LiveJasmin:
Public rooms



Not much nudity in there
Free registration
Special discounts for newcomers
Do you value diversity, to have a huge pool of options that you can choose from (ImLive) over five-star services and premium quality (LiveJasmin)?

One gives you that cozy feeling of something… familiar: it looks like you expected it to look, it makes you feel at ease, it's predictable, and at the same time budget-friendly AND sooo diverse. (ImLive)

The other one makes you feel like a pampered VIP the moment you step on its shiny red… interface. All the models there are top-notch — so stylish, glam, and skillful —  the video quality is top-notch, the photo quality is… top-notch.

You feel like you're part of a highly exclusive club.

Now, it's totally up to you if you want to feel at home or treated like a VIP member on the live cam site you're on.