Skype.Streaming.Love Review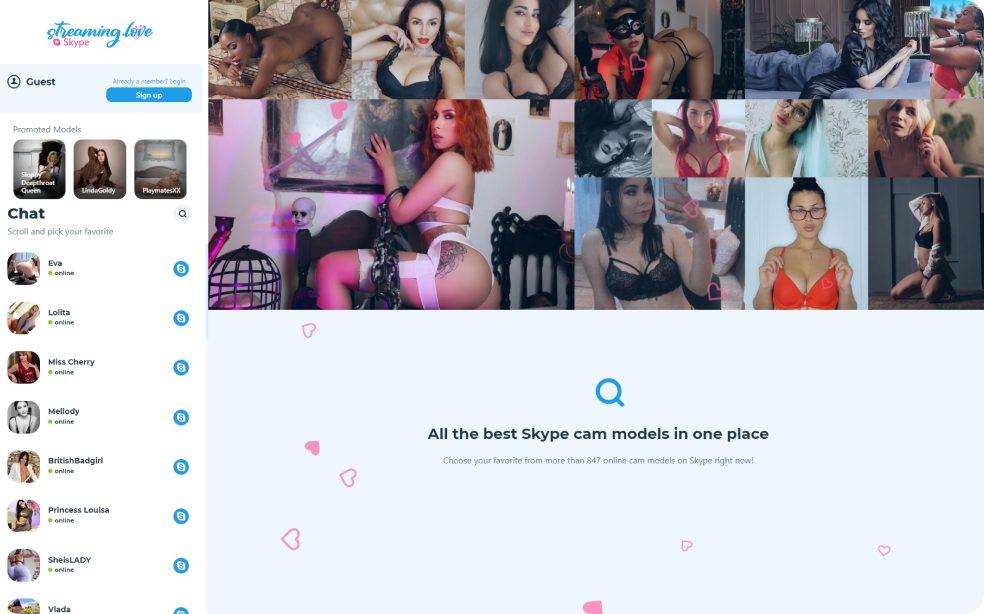 Skype.Streaming.Love is a little different from the webcam sites you're used to. It's the FIRST web app that allows you to connect one-on-one, in real-time, to live cam models via Skype. At a (way) more personal and intimate level…
Skype.Streaming.Love Pros & Cons
Access to free galleries of sexy pics and hot vids
Over 800 models available for intimate Skype sessions with you
A much more intimate and interactive experience
Clean website design
High-quality video and audio
Preview videos on all model profiles: you get an accurate feel of the type of session you can expect
No sorting options
The contact list of Skype models only displays a few models online at a time
The payment process is not exactly straightforward (no Help or FAQ page)
Skype.Streaming.Love in Less than 10 Seconds
Skype LIVE with sexy cam models. In real-time.
Over 800 of the best Skype cam models in one place. So, not just any cam girls that happen to be available on Skype, but the type that is specialized in delivering truly intimate, 100% customizable Skype
Skype-level closeness and intimacy
A way more interactive experience than on a typical cam site: being a web app, it's designed with interactivity in mind
You get to chat with any model you select… INSTANTLY: no need to complete 100 steps and meet 102 criteria to actually chat, 1:1, with any model online on Skype.Streaming.Love
You get to jump in a Skype show with your model of choice right away: just type "Hi!" in the app's chat and take it to the next level… a 1:1 session on Skype
It shows you ONLY those Skype cam models that are online when you access the web app: save the valuable time you'd waste trying to get in touch on Skype with models that… well… aren't available for live fun precisely when you are
On Skype.Streaming.Love you're in full control over your Skype session with the model: you're free to end your Skype call with her at any moment, without the risk of having paid for a full show, in advance. You only pay for what you watch.
Skype.Streaming.Love's Strong Points & Weak Points
What Skype.Streaming.Love Does Well
Skype.Streaming.Love does live up to its promise and gives you access to "All the best cam models in one place."

And, since we're talking about a Skype look and feel and a Skype-based cam site, it takes the whole idea of closeness, privacy, and intimacy to a whole new level.

Moreover, it gives you REAL-TIME access to these ladies. Here, the fact that you get to see exclusively those models that are online (and available) at the time of your visit, is a great plus.

And given that it's a web app — the only web app that connects you with hot models offering shows on Skype — the whole experience is way more interactive, from the get-go, compared to the typical cam sites you might be used to already.

What Skype.Streaming.Love Could Improve On
Hopefully, they'll add some sorting options any time soon. Searching through their massive collection of Skype cam models with no filtering tools to narrow down your searches… might get a bit on your nerves.

Also, adding a bit more room on the homepage for the (left-side) list of models that are online — so that we can see more than just 2-3 models at a time — would be nice.
Pricing on Skype.Streaming.Love
The prices are similar to those on SkyPrivate, ranging from $1 per minute to $12 per minute. So, a whole variety of pricing options for every budget.

Usually, the price depends on the Skype model's ranking, the model's experience in this niche, or the type of services she offers.
How to Register on Skype.Streaming.Love
Step 1: Just hit the "Sign Up" button on the top left corner of the homepage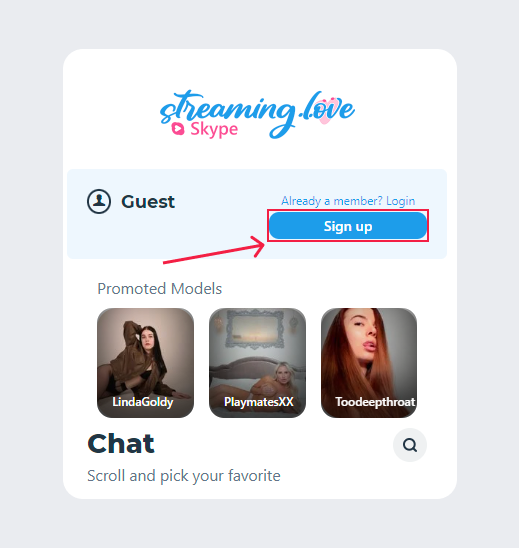 Step 2: Enter your email address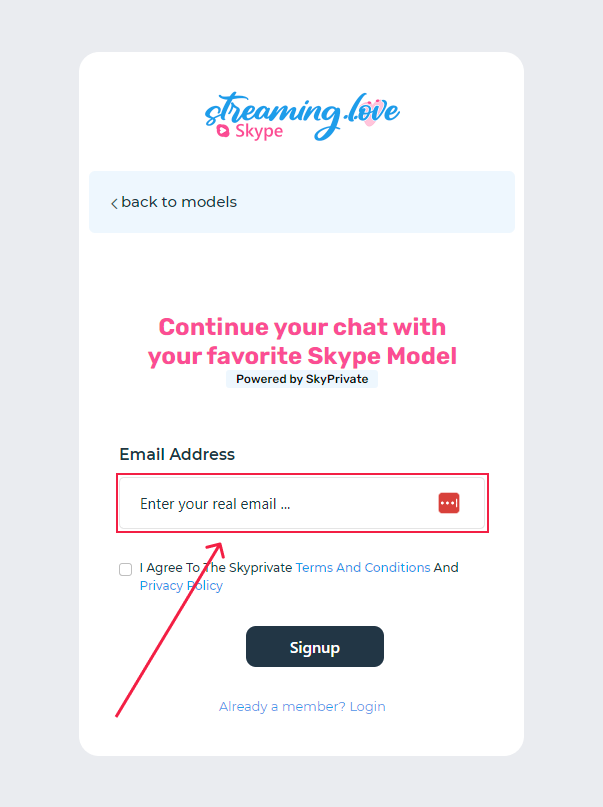 Step 3: Choose your username and set your password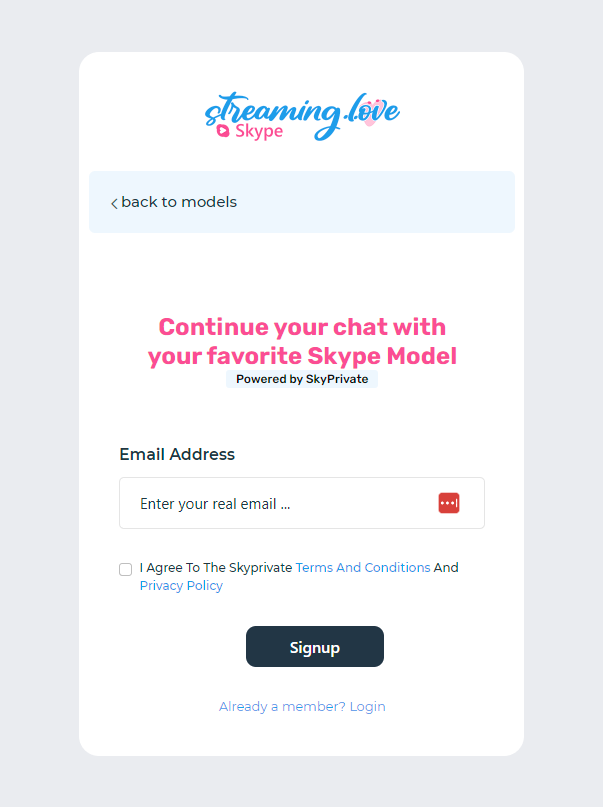 How to Use Skype.Streaming.Love
The super simplified process goes on like this:
Sign up: just enter your email address, hit the "Sign Up" button, add your username and password, too, add funds to your account
Scan through the collection of sexy cam models and pick your favorite one
Message her in the chat and just take her private. On Skype.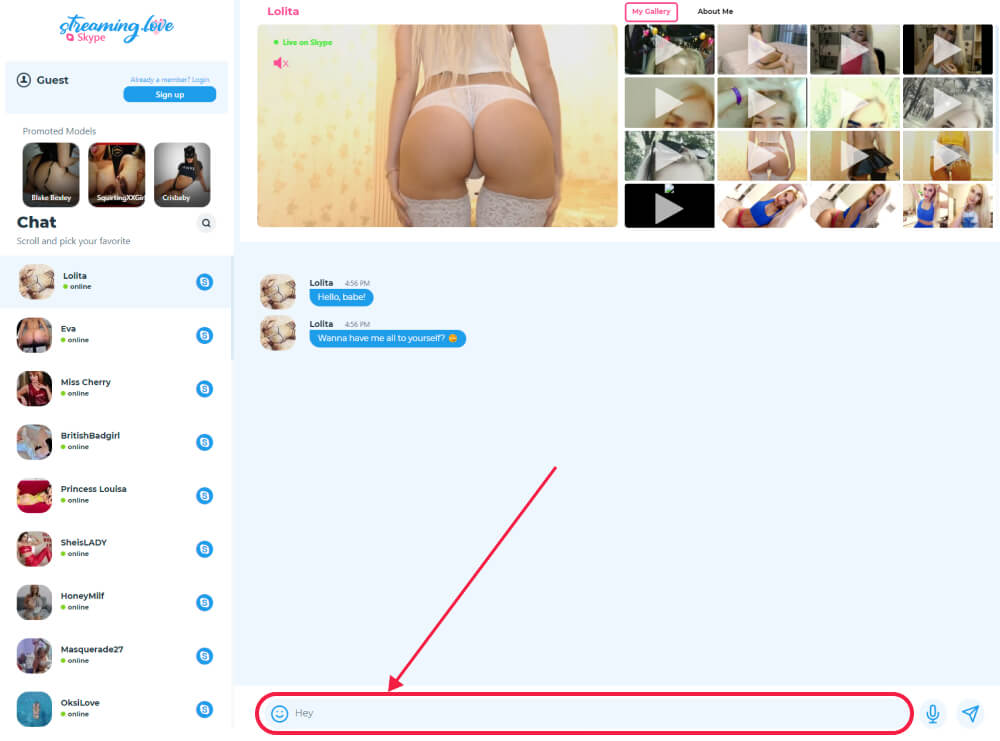 Basically, you just start typing "Hey!" (or whatever cool line you decide to use to approach her) in the chat. She replies INSTANTLY. Then you go live with her on Skype.

Yep, it's as simple as that.
Standout Features on Skype.Streaming.Love
You have a Skype chat mechanism, Skype icons, and a neat, simple, and clean design.

Skype.Streaming.Love really makes you feel like you've just landed on Skype, somehow, and you're getting ready to go live, 1:1, with a hot babe of your choice.

You're entitled to expect a Skype-level type of connection and closeness with the model. And it's what turns Skype.Streaming.Love into one of the best live cam sites for (trully) intimate cam shows like you.
Skype.Streaming.Love comes packed with all the features geared at boosting interactivity that you'd expect from a web app.

So, you're not expected to just… drool over those pics and videos and waste lots of time till you've actually got any type of reply from the models.

You can interact with them right then, right there.
847+ Skype Cam Models to Choose from
Not only that the variety of sexy Skype cam models is… mind-blowing, but we're talking about the type of models that have experience putting on private shows on Skype.

These ladies know how to spoil you, give you their full attention, listen to your requirements, and do their best to impress… YOU. One-on-one.
How convenient! You're being charged, by the minute, once you go live on Skype with the cam girl you've selected.

End the call at any minute and you will have paid only for what you've watched/enjoyed up to that point.
Video Previews on All Model Profiles
You want to be sure that the experience you're about to pay for meets your expectations, right?

Luckily, you have true-to-life video previews to watch on every model's profile. This way you get to take a "sneak peek" at the hot Skype session you'd be enjoying on Skype if you took that model private.
You'll want to choose Skype.Streaming.Love because…
You won't get this Skype-level type of closeness and intimacy with the models on any other live cam site
You have over 800 of the hottest Skype models — not just any live cam models that happen to offer shows on Skype, too — to choose from
You get to pay as you play
The level of interactivity is above the average: get in touch with them instantly and have live fun on Skype in real-time
Frequently asked questions
Use it to get access to hot cam models that offer adult shows on Skype.
Just pick yourself a hot webcam model and connect with her right on Skype via Skype.Streaming.Love
You get to browse through the huge collection of sexy pics and hot video previews for free. But if you want some real one-on-one action on Skype with any of the models you'll need to add funds to your account.
3 minutes at most. Just enter your email, hit the "Sign up" button, then enter your username and password, too, and you will have created a free member account.