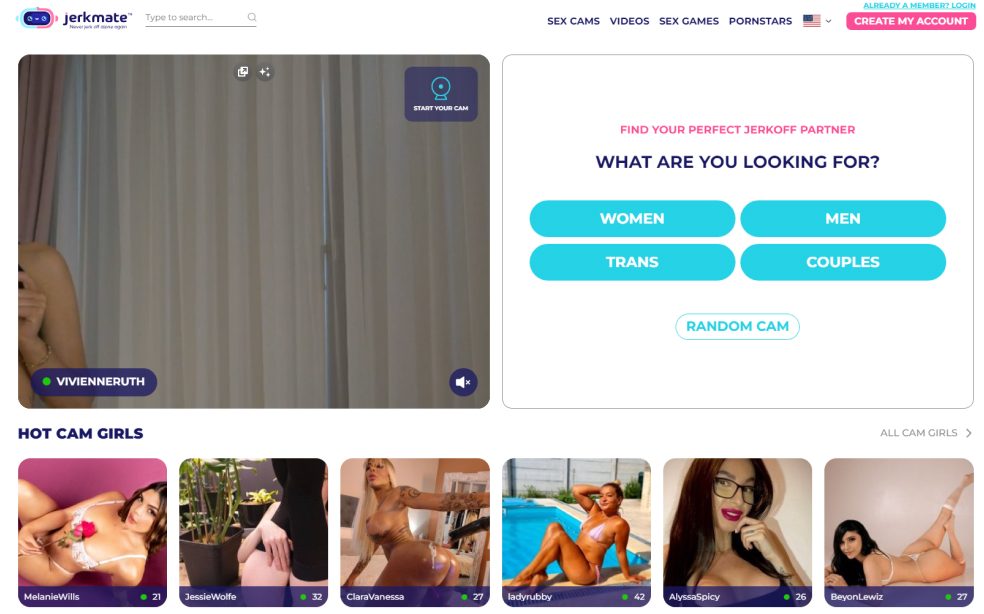 Sleek, clean design, simplified and effective user interface — that makes the whole experience so much more straightforward for you — lots of cool interactive features, sex games, and a whole section dedicated to world-famous pornstars that you can interact with.

THIS is JerkMate, the live sex cam site that makes everything much more… simpler, more interactive more… entertaining.
Straightforward and effective user interface
"Pornstars" section with famous XXX actresses that you can play interactive sex games with 
Simplified s(experience): you get to jump straight into action
Entertaining features for non-registered users, too
Not a lot of naughty action in the free public cams
No advanced filters to narrow down your search results
Need to buy golden tokens if you want to control a model's sex toy
JerkMate in Less than 10 Seconds
A particularly modern vibe, great aesthetics (their clean layout is a real treat for the eye), and THE most simplified and effective approach to user interface design from all the live sex cam sites you might have landed on before.

JerkMate is all about simplicity, about making everything simpler for you so you can jump straight into the naughty action.

With its sleek and modern design, the lack of clunky clusters of features stealing your attention (and your time) all the time, and a straightforward, simplified interface, it stands out from the crowd of nude cams sites that go overboard to hook you with their… 101 tools, features and all kinds of pop-ups.

When all they manage to do is… waste your time. The time you could spend chatting with some of their cam models instead.
JerkMate' Strong Points & Weak Points
It brings a new, simplified approach to the whole experience of enjoying a free chat or a 1-on-1 private show with a live cam model.

First of all, it doesn't burden you with too many choices and it makes it so much easier to jump in a chat with a model the very instant you land on their front page.

You already have a LIVE cam opening up the moment you access JerkMate, that you can join, right away.

Or you can simply opt to look for another one. That better suits your specific preferences.

Secondly, it doesn't try to lure you in with all those shiny extra features like so many other adult cams sites do. It keeps everything simple and… to the point: you can jump in a live cam right away and enjoy your time with the model.

And that's what you're there for after all, right? 
What JerkMate Could Improve On
Maybe some more advanced search filters would level up the whole experience a bit.

Also, having more action in the free chats, just to make it worth taking out your wallet, would be much appreciated (and more profitable for those at JerkMate, too).
Standout Features on JerkMate
Hot XXX videos, that is. And particularly girl-on-girl, solo, 3-way, and hardcore ones.

Most of them are paid, as you can expect but they're worth every buck: HD quality, starring famous porn superstars… you won't get that on many other live cam sites.

Plus, there are plenty of unbearably teasing, great-quality videos that you can watch FOR FREE, too, before you feast yourself on the premium ones.
Interactive Sex Games with Famous Pornstars
Another feature that helps Jerkmate stand out from the crowd of live sex cam sites is their "Pornstars" section.

Eva Elfie, Riley Red, Armani Black, Adriana Chechik and many more XXX superstars are available to play with you on Jerkmate.

Just pick your favorite porn star (even as a non-registered user) and… take control over her: have her dance for you, spank her booty for you, twerk for you…

It doesn't get any hotter and CLOSER to the real thing than this: you have your favorite pornstar all to yourself!
This is where you get access to the hottest live HD live shows on Jerkmate. They're addictively interactive and they feature THE best live cam models and world-acclaimed pornstars on the platform.

Pornstars that you can actually chat and interact with! Not something you'll find on many other live sex cam sites.
JerkMate's famous for its highly interactive sex games. And another great thing about them is that you get to play them even as a non-registered user…

You get to pick a roleplay — housewife, doctor, dominatrix… elf princess — then choose the hot actions you'd like her to perform for you. Like… licking a lollipop, massaging her breasts… bouncing up and down.

Or, you can enjoy a "Command and Obbey" steamy game.
FREE Chat and Private Shows
As you enjoy a live stream, you get to send the model messages in the public chat. Even pick an option from the Gold menu — ask her to play with her breasts or finger her…  — and send her good vibes via her interactive sex toy.

Or, you can always take her private and have her give her FULL attention to you.

And while in private, you can always turn on your own cam, too, adding more intensity and intimacy to the whole 1-on-1 experience.

You'll want to choose JerkMate because…
It simplifies the whole experience for you, so you can get right into action from the very start
Its interactive sex games are… something else
It allows you to take full control over your own favorite pornstars
It allows you to try its cool interactive tools even as a non-registered user