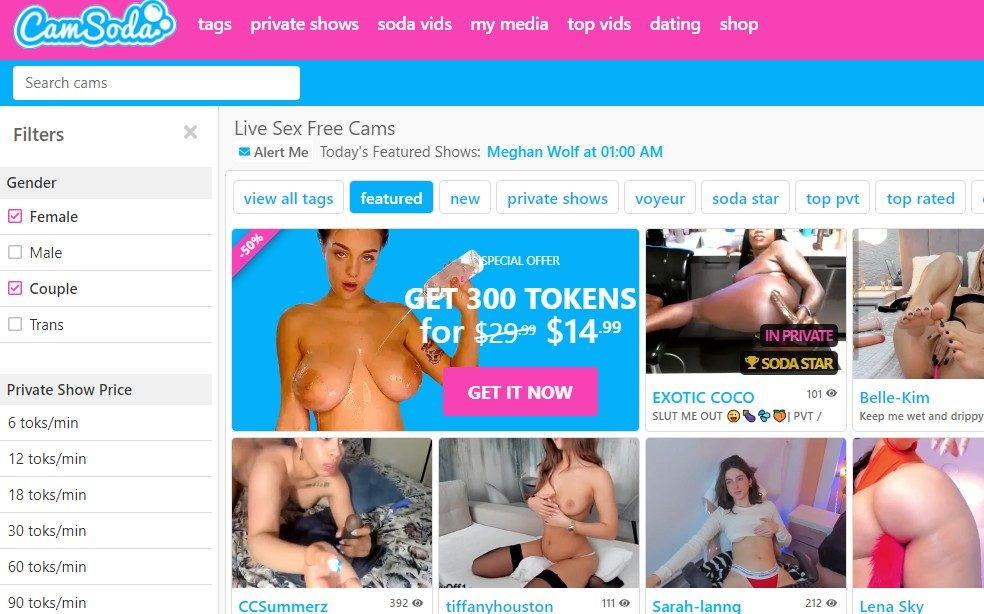 Packed with interactive features that add the fun factor and adrenaline to your live (s)experience, clean design, conveniently easy-to-navigate layout, and such a unique combo of both amateur independent cam girls AND the hottest pornstar divas of the moment.

THIS is Camsoda — your go-to live cam site if you're into freemium cam sites that offer you TRULLY interactive live sex experiences.
LIVE shows with the hottest pornstars of the moment
Lots of cool, EXTRA interactive features
Easy-to-navigate layout and clean design
So many cool chat options
No full-screen chat feature
Attention-grabbing ads for non-registered users
Models set specific token goals before they agree to fully carry out your  requests
CamSoda in Less than 10 Seconds
Compared to other live sex cam sites reviewed here, CamSoda's "the new(er) kid on the block".

Operating on a freemium business model, like Chaturbate and MyFreeCams, for instance, it manages to stand out with its:

overload of cool interactive features

unique mix of amateur live cam models AND the hottest pornstars of the moment.




It hooks you up the moment you land on its front page thanks to its live-action thumbnails that allow you to peek into the models' room (and there sure is A LOT of naked action there). And it keeps you hooked with all its engaging features the moment you open a model's chatbox. 

Not to mention that those at CamSoda seem to be putting a lot of effort into making their site's layout super easy to navigate and their overall design so convenient clean and… efficient.

CamSoda's Strong Points & Weak Points
It's THE most interactive adult cams site you'll find. Full stop.

It's packed with so many interactive features that make your visit there not only extremely spicy but fun and interactive, too. From the live-action thumbnails on the front page to the "Control Her" and the "spin the wheel" options, it's like a naughty, adults-only funfair there.
Also, let's be honest: you won't get the chance to get THIS close to huge names in the porn industry (Brandy Love anyone!?) on many other live cam sites.

CamSoda makes it possible. And it feels sooo real!
What CamSodaCould Improve On
They could tone down the ads they display to non-paying users, as they tend to get a little bit distracting at some point.

Also, they should consider adding a full-screen chat feature, too: you can't text the model when you're in full-screen mode unless you minimize it, type your message, then you back to full-screen mode. A bit tedious.
Standout Features on CamSoda
Exclusive XXX Live Porn Videos & Shows
We're talking about high-quality videos that you won't find anywhere else. And, most of all feature porn superstars.

Lauren Phillips, Evelyn Stone… Mackenzie are just some of the big names starring in these 100% CamSoda-exclusive videos and shows.
You'll see a "Private Message" button while in a cam model's chat room. Feel free to click on it if you really get a crush on her and want to tell her something ultra private. Maybe you feel like texting her something particularly kinky…

If so, just use this feature for extra privacy.
Voyeur Cams and Spy Shows
Have you ever fantasized about being able to turn invisible and sneak into a hot babe's room? To spy on her as she'd carry out her daily routine?

Well then, now you can live this fantasy on cam. For on CamSoda you have this "In Private Spy On My" feature that allows you to do just that: spying on a cam model as she goes about her day.

Of course, expect her day to be filled with more naughtiness and sensuality than any other babe's day.
You have a "Control Her" button in the models' chatboxes. This means that you get to take over their sex toys (and their orgasms) and send them low, medium, high, or/and… ULTRA good vibes.

And that level of interactivity + that exhilarating feeling of control, of being able to    control THAT insanely hot model's orgasm from miles away, it's just… mind-blowing!

You'll see…
Games (Spin the Wheel, Slot Machine, Roll the Dice…)
Here's another solid proof that CamSoda is all about interactivity.

It's packed with fun interactive features that make your whole virtual cam sex experience incredibly engaging.

For instance, if you're a risk taker and would love to add a rush of adrenaline, too, to your whole (s)experience, you'll see the "Pull It", "Spin It" or/and Scratchoff buttons in many of the CamSoda models' chats.

This means you can have fun rolling a die or pulling the slot machine (at the cost of some credits, obviously) and get rewarded with… the chance to have the model put on a hot dildo live show. Or an EXTRA sloppy blow job show or…

You get it, it's all about boosting interactivity and adding the fun and the surprise factor to the already hot live sex sessions you're enjoying.
You'll want to choose Chaturbate because…
With so many live cams to choose from (thousands upon thousands) there's no way you'll ever get bored
You get access to free chats
You have so many search and filtering options to really personalize your search results to your most specific (and unique) preferences
You get access to some particularly tempting features if you're willing to buy yourself the FULL experience